Community Outreach
Community outreach focuses on developing a relationship between the Gila River Police Department and the community it serves. By Interacting with our community and developing strong relationships, we can build a mutual trust. When that trust is built, we can reduce crime and make the Gila River Indian Community a safe and vibrant community for everyone.
Gila River Police Citizens Academy
Gila River Police Citizens Academy Accepting Applications
The goal of the Gila River Citizens Police Academy (CPA) is to build a bridge between members of the police department and the Gila River Indian Community it serves. The CPA will also help build a positive relationship between the community while improving the lines of communication. During the 9-week program, participants experience a civilian adapted version of the police academy.
The CPA meets one night a week for 2 hours and one Saturday that is scheduled for 8 hours. Some classes maybe extended. You may not miss more than two classes. Graduates of this program gain a unique insight into the life and training of a law enforcement officer. Some topics are as follows:
Backgrounds
Laws/Statutes
Criminal Investigations
Professional Standards
Dispatch
K-9 Programs
Rangers
Property & Evidence
The next class is scheduled for May 31, 2023 through June 26, 2023. Class meets each Wednesday from 6pm until 8pm, unless otherwise noted.
How To Apply:
To be eligible to apply you must:
Be a member of the Gila River Indian Community
Or be spouse of a Gila River Indian Community member and living within the Community
18 years old or older
Have no felony or misdemeanor convictions.
All applicants must submit to a background check.
To apply for the Gila River Citizens Police Academy – Click here
Please email completed applications to: Teaya.Enos.GRPD@gric.nsn.us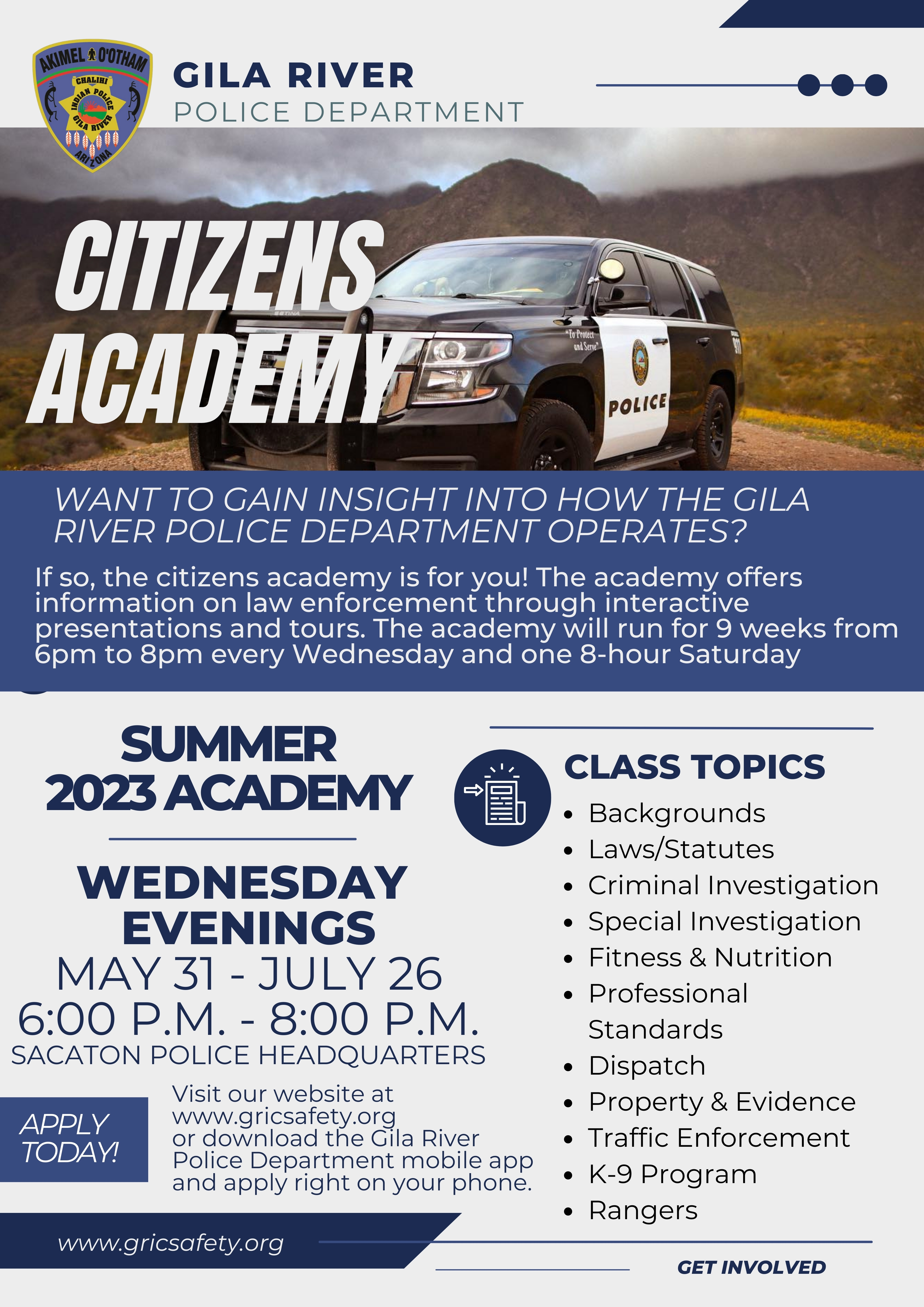 Ride A-Long Requests
Program Currently Suspended
Citizen Observer/Ride Along
The Citizen Observer/Ride Along program allows citizens to voluntarily accompany officers and to observe law enforcement activities within the Gila River Indian Community. This program is designed to allow community members and citizens to better under­stand the Departments Community Oriented Policing philosophy. Observers may request to ride in any area, at any time or with a particular officer. If operationally feasible and conditions permit, permission may be granted. The safety of Citizen Observers/non-police personnel shall be paramount and a ride along may be terminated by the on-duty supervisor at any time to ensure the safety of all involved.
Persons wishing to ride along should pick up ride-along forms at the Criminal Justice Facility in person at least five working days prior to the desired ride-along date. Completed request forms and waivers shall be routed through the chain of command.
NOTE: All subjects requesting to ride-along must present valid identification and must agree to a Wants/Warrants check.
Community Block Watch
BLOCK WATCH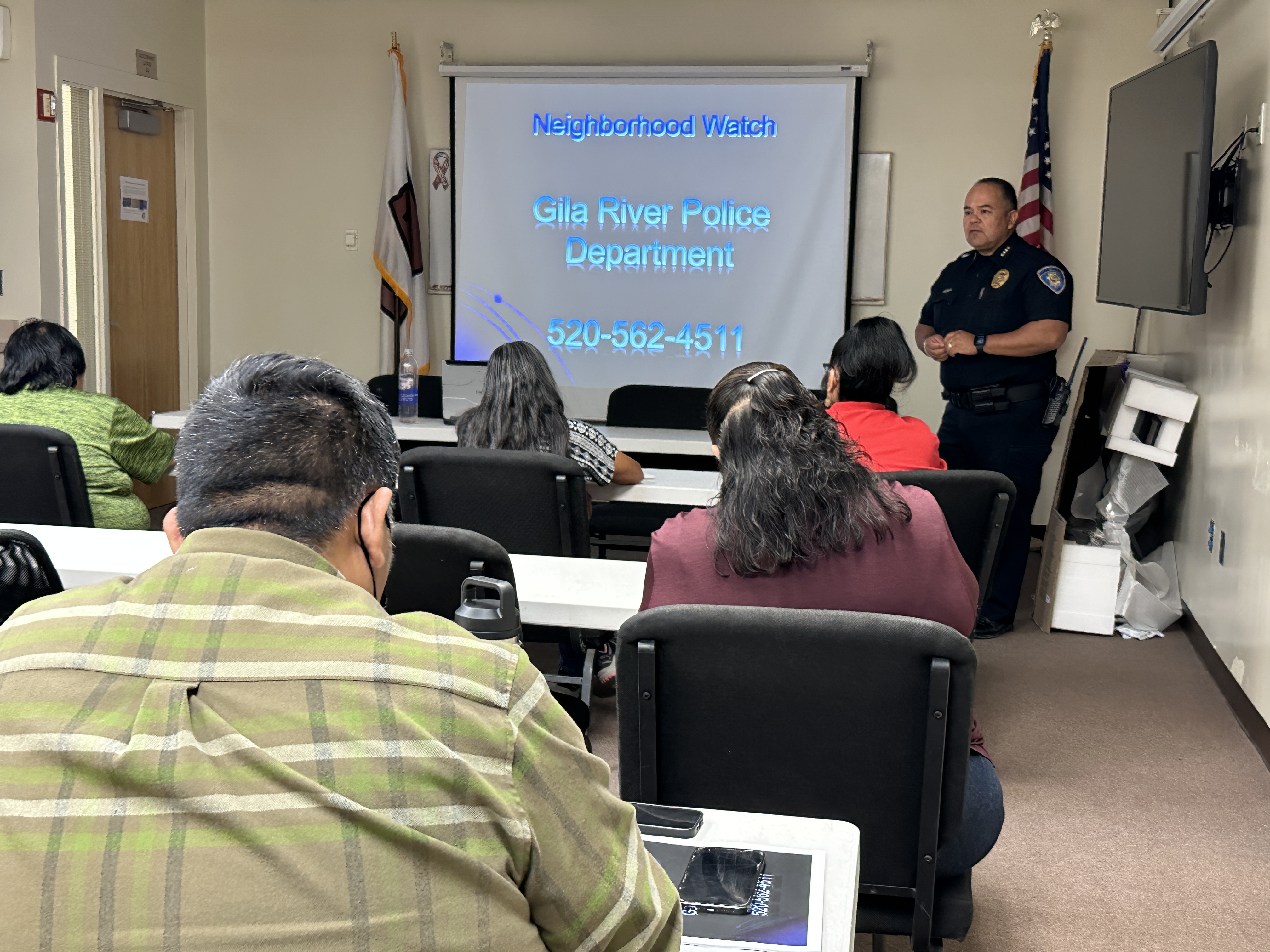 A Block Watch is a partnership between GRIC residents, neighborhoods and Law Enforcement. It creates an environment where you can openly share information, and your concerns, to help improve safety and prevent crime. Organizing a Block Watch opens the lines of communication between neighbors and creates a systematic way of alerting your neighborhood of suspicious activity.
A Block Watch doesn't require you to perform any special tasks, go to a lot of meetings, or take on extra responsibilities. You also don't have to patrol the neighborhood. All it requires is that you and your neighbors be familiar enough with each other to know who belongs in the neighborhood and who doesn't; which cars are a part of the neighborhood and which aren't; recognize when something suspicious is going on and being a little more observant of changes in your surroundings. It also requires that when you see something suspicious, you alert each other and you alert police.
Residents who are interested in starting a block watch in their neighborhood can contact the Gila River Police Department.
Contact: Sgt. Celestina Perez
Phone: (520) 562-5198
Email: Celestina.Perez@gric.nsn.us